Bob Schneider asked me and martin if we wanted to work on a longform video for Amazon, a fulfillment company that offers a wide variety of products.
we tried to act like we had other stuff going on but we were going to prioritize the Amazon job anyway, even though we didn't have shit else to do.
oh wait that's not exactly what happened, now I remember. Bob first asked me to do the video because he was familiar with some of the canadian cassette tape work I'd been creating (A Christmas Carol— Feudal Version).
I asked martin if he wanted in and he said no, lol. he had some decent contract job in and when I told him about the work involved vs the money involved he was like LET ME KNOW HOW IT GOES.
martin's job went fubar and it worked out because I had spent the last two months developing the slot bodies and a terrain engine, it was perfect timing for martin to come in and start developing new environments and secondary characters.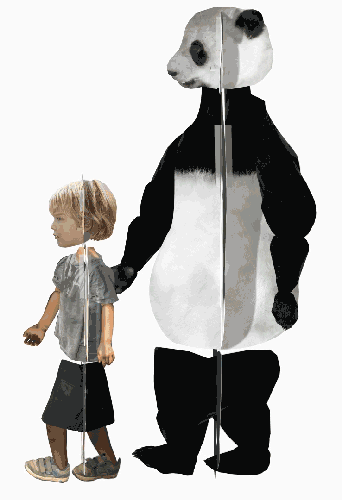 the L is basically built as a game that plays itself. a terrain engine keeps things rolling and the characters detect breaks in the terrain to initiate jumps and negotiate the environment. perhaps a very stupid way to make things, but you see, I only make things in very stupid ways.
this also added an unpredictability to rendering as there was some leeway and randomness as to how characters and even the camera would make decisions. I had to get a new computer just to be able to try and render the L at 1080P.
I still remember me and martin at last getting the final copy uploaded to Amazon, we were exhausted! and not two hours later we get a phone call from Jeff Bezos himself, even though he's super busy he took a moment to say "hey guys, great job!"
"I Will Find You No Matter What" is available for viewing on Amazon Prime Video and at time of publishing has 4.3 out of 5 stars, the people that gave it bad reviews are not welcome here.